Last night I ran 20 miles with an average pace of 8:15 per mile.
Okay, I'm lying.
Yesterday after work I went to Fredrick's of Hollywood (for my costume), Toys'r'us (for my husband's costume), and the grocery store. Then I made dinner. Then I watched tv until bed. This week's Psych episode slayed me. The person who won Project Runway was a disappointment.
Today my butt feels normal.
So, here's my plan:
I'm supposed to get a 20 miler in this weekend. The past two long runs have been cut way short or canceled. Which doesn't bode well in general.
So, this Sunday, I'm considering dragging my hung over (since it will be the day after my Halloween party) ass onto my shitty treadmill, and slowly see how far I can go before my hip hurts or I stab myself in the face with a pencil out of boredom. Sure, I can google ways to "stay entertained on the treadmill!!! happyface!!!" and then post them here as though any of them are revolutionary. Watch TV! Um. Duh. Are you fucking kidding me.
Anyway, that's my current half baked plan. Which means, to best prepare myself, I shouldn't run today or tomorrow, either. Let my butt really rest up.
And, since I can't run, I get bored. And when I get bored, I dress funny.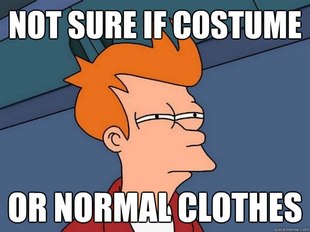 It works to my advantage today.
Backstory: A good quarter of my wardrobe was purchased for hilarity's sake. Fake fur coat? Check. Jeggings? Check.
Moon boots? Check.
I also acquired the knit half shirt thing at a clothing exchange. Because it's hilarious.
I'm going on a snow bunny expedition to the moon.
Gravity is different up here.
I don't know why, but they almost look like ponies to me. Yes, I acknowledge that doesn't make any sense, but this is my fucking blog and I can write crazy shit if I want to. Boomerang ting tang FOOD.
I also busted out my newest jacket, finally. I'm pretty sure it has shoulder pads in it. That I need to remove. Otherwise I need to figure out a more flattering way to showcase my star studded shoulders.
My fingers are delicious.
The End.
=====================
Um, yeah, it's going to be better for everyone when I can run normally, without a stupid pulled muscle lingering like a cabbage fart gone wrong. If I'm sidelined any longer I'm going to start shopping online for an over sized leather backpack I can drag around everywhere.
======================
Saturday night my husband and I are throwing our annual Halloween party. I threw my first Halloween party the year I met him, and we've thrown one ever since. We've had the party in many different places, with numerous people co-hosting (at least, back when we both had roommates). Every year is amazing for one reason or another. There are always impressive costumes, delicious (creepy) food, too drunk people (sometimes/often me), and too many pictures. This year is shaping up to be no different. I'm very excited, and exhausted already. I still have a few things to build/paint/glue for my costume, but I have everything I need. We have a ton of decorating left to do, a lot of gross food to prepare, and a closet full of way, way too much alcohol.
======================
I was very athletic in high school. Well. Ish. I played soccer all four years. Varsity, but it doesn't count because we only had one soccer team, and barely enough girls for that. I was good. For our team. Which was pretty much the worst team in the league. I'm still going to brag that I was team captain and top scorer my senior year. Big fish, very small pond. Being "good" for our team didn't take much effort.
My senior year I also joined the wrestling team. This was not some great feat. Again, barely enough people to make a team. No try outs. No cuts. Everyone gets to wrestle. Which was awesome, because there was no way I could have made the team. A good wrestler's build is short and stocky, and I was tall and gangly. I actually put on a fair bit of weight during wrestling season. I was the first time I was truly, truly challenging my body. I was doing things I never would have thought possible. Jogging laps around the mat while carrying the heavyweight across my shoulders. It was amazing. It was possibly the best shape of my life. It's hard to tell. I had nothing to compare it to. I'm in pretty good shape now. But I'm older. But I don't smoke anymore, so I have that advantage. Anyway, I was in excellent shape, but I was still a shitty wrestler. I didn't have the upper body strength, I was going up a weight class, instead of dropping weight, because the three weight classes below me were full, so my options were wrestle a few pounds up, or figure out how to drop 15 pounds before every meet. Which wasn't physically possible. The bonus was, I never had to worry about making weight. The downside was, I was up against guys who were usually 10lbs heavier than I was. I never did beat a guy. I came close once, and might have got him on rematch, but I broke my nose during the tournament. Lame. I beat every girl I wrestled, but there weren't many, and none of them were good.
Anyway. I was in good shape in high school.
And then I went to college and took up heavy drinking and heavy smoking and gave up on all forms of exercise. And then I graduated from college and took a job sitting on my butt for a few years.
And then my boyfriend dragged me to the gym, and I dropped pounds with seemingly zero effort, and was hooked. I got a personal trainer. I started running. And, with brief breaks, I haven't looked back.
So, I have a history of fitness, and a history of laziness.
And it is really easy for me to slide into either one.
I meet with my trainer twice a week. This is easy. Sure, what he makes me do is hard, but going is automatic. It's a shock when I end up *not* going. It's ingrained in my schedule. Easy.
Running fluctuates. When I was training for the tri, it was easy to do everything I needed to do, because I had a concrete schedule, and someone telling me to stick to it, and checking in to make sure I did. When I don't have anything I'm training for, it's easy to not run for a week, because it's chilly, or I want to go home and watch tv, or I'm too lazy to do laundry and my favorite running pants are finally filthy enough that I can't re-wear them.
And, the longer I don't run, the harder it is for me to want to run again.
And that's what I'm afraid of.
Not wanting to run.
Because man, that's a tough feeling to shake.
That's all I've got today, folks.