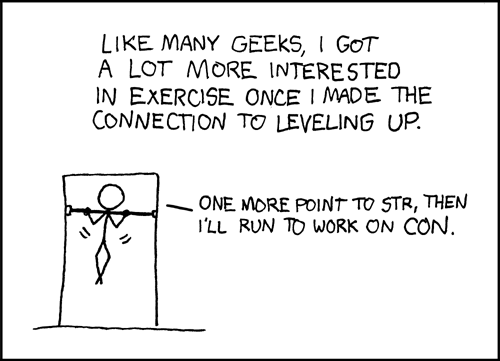 1. I went home for lunch to check on Cooper (the new doggie) and make sure he didn't poop all over the kitchen floor. Since he's not allowed outside on his own for two weeks (and his cone doesn't fit through the doggie door anyway), we baracaded him into the kitchen, so if he does make a mess, it's on the tile. He's all drugged up anyway, so I don't think he minds.
He was super stoked when I came home, though. I took him for a short walk, and he sniffed another dog. He is so mellow. And, we have never once heard him bark.
------------------------------
2. I pulled something in my shoulder while stretching this morning. I take this as a sign of getting old. I turn 30 in six months, which is 50 in Los Angeles years. So, clearly, my body is falling apart.
It's probably actually just fatigue. I slept poorly last night, because I could hear the dog breathing. I've talked about how messed up my sleep is before, but here is proof. The sound of a dog breathing on the other side of our bedroom can wake me up. Awesome, right?
-----------------------
3. I'm contemplating running this:
Even if I don't, you should. It's a $5 entry fee, a crapton of prizes, an excuse to run, and a great cause. DO IT!
---------------------
Tell me three things you did today. Anything, doesn't even have to be exercise related.